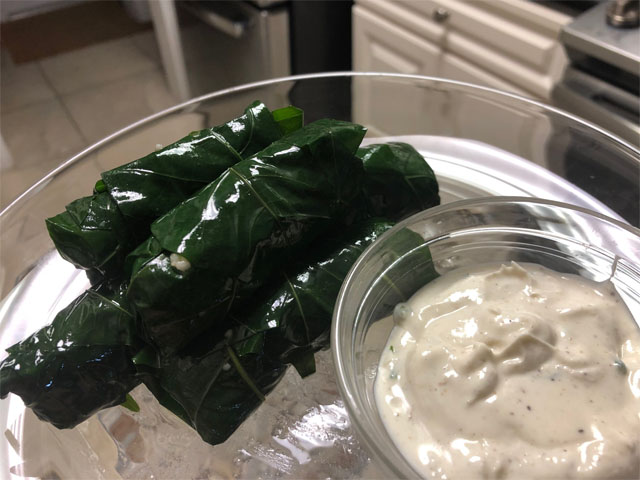 Crafted for Luna Hill Forest Garden by Chef Andrea Miller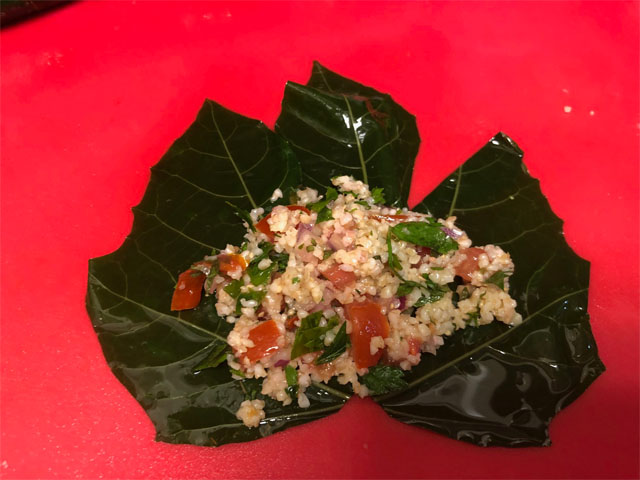 Chaya Wrapped Tabbouleh (vegan)
Serves 6-8 as a side dish
For the Tabbouleh:
1 cup bulgur wheat
6 tablespoons freshly squeezed lemon juice
3 cups chopped fresh flat-leaf parsley
3 cups diced fresh tomatoes
1 cup finely diced red onion
1 cup chopped fresh mint
3 tablespoons extra-virgin olive oil
1 teaspoon kosher salt
Freshly ground black pepper
Place the bulgur and 1 ¼ cups water in the inner pot of your Instant Pot and stir to combine. Close the lid and make sure the pressure release valve is closed. Select Pressure Cook function and set the cooking time to 12 minutes at low pressure.
When the cooking is complete, release the pressure manually and remove the lid. Fluff the bulger with a fork, transfer the inner pot to a cooling rack, and allow the bulgur to cool slightly.
While the bulgur is still warm, sprinkle ¼ cup of the lemon juice over it and toss to combine.
Combine the parsley, tomato, onion and mint in a large bowl. Add the bulgur and toss gently to combine.
Whisk together the remaining 2 tablespoons lemon juice, the olive oil and salt in a small bowl and pour the dressing over the salad. Toss to coat. Taste and season with pepper and additional salt if needed.
Allow the salad to stand for at least 30 minutes prior to serving for the flavors to develop.
Note: You will have way more salad than you will need for the wraps so serve as a side dish at your next meal.
For the Chaya wraps:
10 Chaya leaves, washed, stems removed and boiled for 10 minutes (you can do this step a few days before assembling the wraps, store the leaves submerged in olive oil to preserve them)
Take a Chaya leaf and place it on your cutting board. Put ¼ cup of the tabbouleh in the bottom of the leaf, fold in the sides and roll up tightly.
Serve with Yogurt-Tahini Sauce.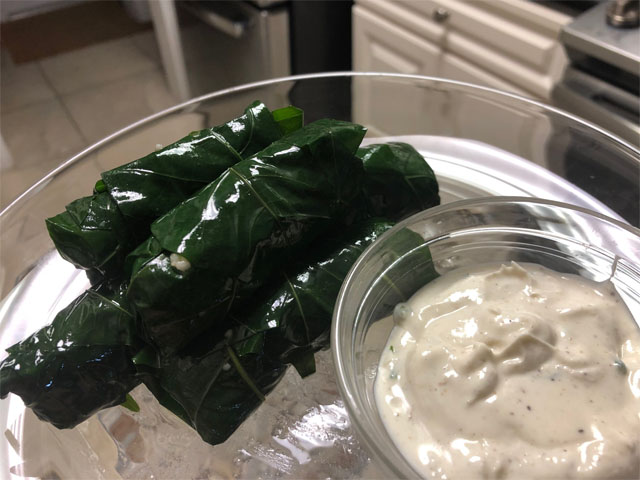 Yogurt-Tahini Sauce (vegetarian)
1 cup plain Greek yogurt, preferably full-fat
2 garlic cloves, minced
Juice of 1 lemon
½ teaspoon ground cumin
½ teaspoon ground sumac
1 tablespoon extra-virgin olive oil
2 tablespoons chopped Chaya leaves, boiled and drained
Combine all ingredients together in a bowl and whisk until smooth.