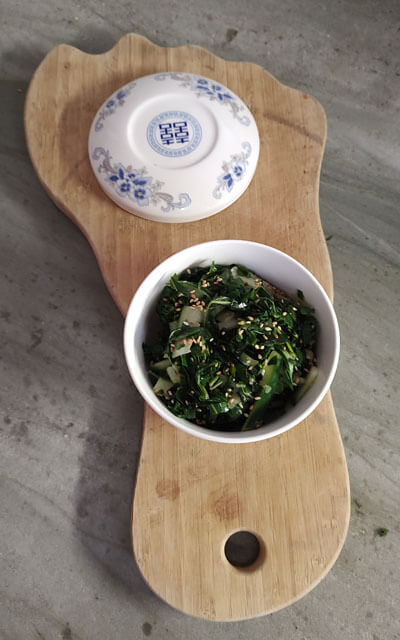 Responsibility Profile
Fusion Recipe:  South American Chaya + Japanese Wakame Sauce = OchuseTM Chayakame Salad.
Ochuse Chayakame Salad is classed as a Transformation (Fusion) Recipe for SSAR responsibility profiling. It is Identified as such since two separate culture-of-origin ingredient bases are colliding to produce a new 3rd recipe in a distant — yet similar climate zone.
Seven (7) of 12 ingredients can be sourced from the Ochuse Climate Zone significantly reducing Food Miles (fmi) and increasing Garden Meal Days (GMD) sustainability measures.
A Recipe's Journey
Seeking to discover climate-zone adapted ingredients that can be dinner-plate adopted in my kitchen, I always thought blanched Chaya looked like re-hydrated seaweed.  I found a Japanese Wakame Salad recipe from Asian Caucasian and tailored it to the new ingredient. 
I first wanted to see if I could replicate a kinda "faux" Wakame salad — with Chaya.  The results were better than expected.  The salad stands on its own as a fresh vibrant dish — not a "faux" anything.
What to label this recipe?
I wanted to respect both the seaweed and the Chaya. To label the salad Chaya Wakame just didn't feel right. So, "Ochuse Chayakame Salad" seemed most descriptive, yet properly respectful to the 3-different cultural practices that have been combined to craft a "fusion" recipe: South America, Japan & Ochuse.
With just a few changes to the original seaweed recipe, I hope you enjoy this Chaya Fusion.
Ingredients & Instructions
Ingredients
50 grams (1.7 ounces) 30 large fresh Chaya leaves
3 tablespoons Tamari
1 tablespoon rice vinegar
1 tablespoon mirin
1 teaspoon sugar
1 teaspoon grated ginger
½ teaspoon grated garlic
1 tablespoon toasted sesame oil
¼ teaspoon red pepper flakes
1 baby cucumber (skin on), very thinly sliced
½ teaspoon toasted white sesame seeds
½ teaspoon black sesame seeds
Instructions
Prepare the dressing: In a medium-sized bowl, whisk together the soy sauce, rice vinegar, mirin, sugar, ginger, garlic, sesame oil, and red pepper flakes. Set aside.
In a non-aluminum pot, bring the water to a boil.  Add the cleaned un-cut Chaya leaves, and cook at least 15 minutes.  Note: Do not  use the lid and be sure the area is well ventilated.

I like to cook to 15 minutes for this recipe because I like the brighter green and firmer crunch; however, in testing with friends, 20+ minutes was preferred.

Remove the Chaya leaves to a cool water cool-down to stop the cooking.  Once the Chaya leaves are cool, place them flat on a towel to pat dry.
When preparing to shred the Chaya, lay up to 10 leaves on top of each other.  Roll from the aligned up stem ends.  It will look like a dolma.  May even give it a squeeze over the sink to Make sure to remove as much moisture as possible.  Then finely slice the roll leaving thin long strips of Chaya.
Add the shredded Chaya leaf, sliced cucumber, and sesame seeds to the bowl of dressing and toss well to coat.
Cover and chill in the refrigerator for 30 minutes to 1 hour.
When ready to serve, garnish with extra sesame seeds.