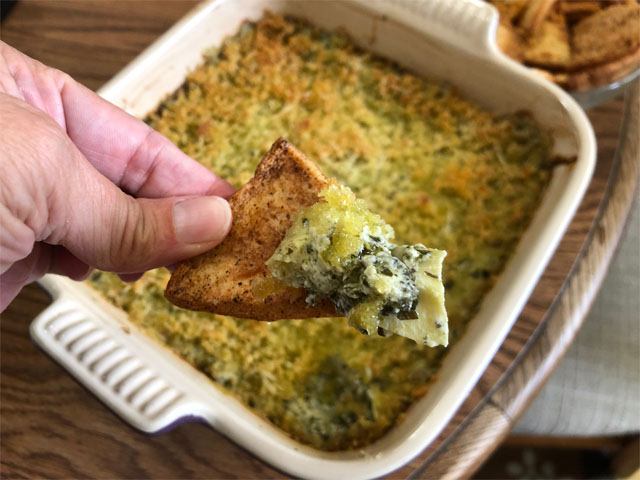 Crafted for Luna Hill Forest Garden by Chef Andrea Miller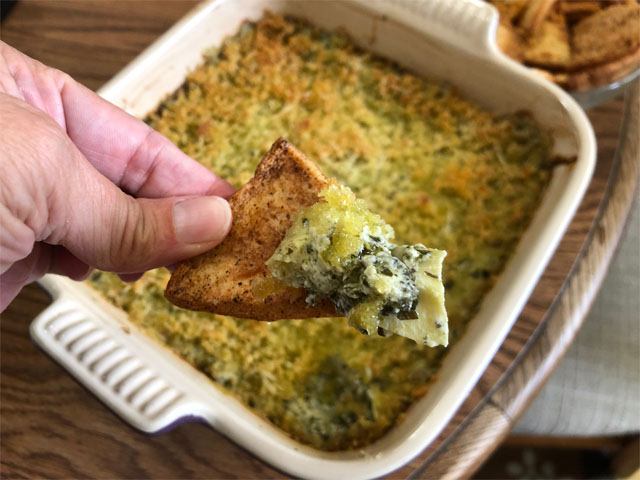 Artichoke Chaya Dip (vegetarian)
Yield: 4-6 servings as an appetizer 
2 tablespoons extra virgin olive oil 
1 shallot, thinly sliced 
1 clove garlic, minced 
2 cups Chaya leaves, chopped, boiled for 10 minutes, drained 
Salt and pepper to taste 
4 ounces cream cheese, room temperature 
1/2 cup mayonnaise 
1 scallion, thinly sliced on the bias  
1/2 cup Parmesan cheese, grated 
1 tablespoon lemon juice 
1/2 teaspoon Tabasco 
1/2 cup artichoke hearts, rough chopped 
1/4 cup panko breadcrumbs mixed with 1 tablespoon melted butter 
Preheat the oven to 375º. 
Heat a sauté pan over medium heat and add the olive oil. Gently sauté the shallot and garlic until aromatic, about 1 minute. Add the chaya. Season with salt and pepper to taste. 
Transfer the chaya mixture to a food processor and add the cream cheese. Puree until smooth.  
Transfer this mixture to a bowl and stir in the mayonnaise, scallions, lemon juice, Tabasco, artichoke hearts and half of the Parmesan cheese. Season to taste with salt and pepper. 
Pour this mixture into a small baking dish, and top with the bread crumbs and remaining Parmesan cheese. Bake until the dip is golden brown and bubbly, about 25 minutes. 
Serve with Smoked Paprika Pita Chips. 
Smoked Paprika Pita Chips (Vegan)
Yield: 8-10 servings
3 pita bread loaves
2 tablespoons extra virgin oil
1 teaspoon smoky paprika
1/2 teaspoon sea salt
1. Preheat the oven to 375º. Line sheet trays with parchment paper.
2. Slice the pita loaves into 8 triangles. Separate the two layers of each triangle. You should have 16 chips per loaf.
3. Combine oil, paprika and salt in the bottom of a large mixing bowl. Add pita and toss to coat. Spread out on the prepared sheet tray. Alternatively you can mix the oil, paprika and salt together in a small bowl. Lay the pita on the prepared sheet tray and brush each side with the oil mixture.
4. Bake until pita is crisp and slightly toasted, tossing once, 8 to 12 minutes.